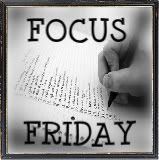 Well since this is our first house to sell we have nothing to compare it with, but it is taking forever to get it ready. Since the market is so bad we want the house perfect needing no real work so it seems like we keep adding to our list. Isn't it funny our house will be the nicest as we leave it? Well more packing has gotten done and we really are close to finishing, but as for a new routine with the girls, yeah right! We did have fun 4th of July. We went to the local parade which the girls loved, my husband tried to take our 3 year old to the fireworks but she fell asleep and would not wake up, next year I guess. So on to this week:
keep working on the house ( I am seriously tired of this one)
have some relax time with my husband ( we have been running in opposite directions all week!)
So that is my focus for next week, what are you focusing on? New to Focus Friday here is the scoop: As we enter a new year everyone, myself included, has a list as long as their arm of things they want to accomplish. So I have decided to hold myself accountable by choosing one thing to focus on each week. It can be big or small, it doesn't matter just as long as I specify what it is and get it done.So each week I will post my focus for the upcoming week as well as give a recap of how my week went with the previous focus. Now here is the fun part, I want you to join me on my little focus challenge. Grab my fancy button from above and post it along with your Focus Friday each week on your own blog. Then come and leave your link here in the Mr.Linky below. I promise if you participate that I will cheer you on and help you to stay focused and please do the same for me and all the participants. If you don't blog just leave your focus in a comment below.